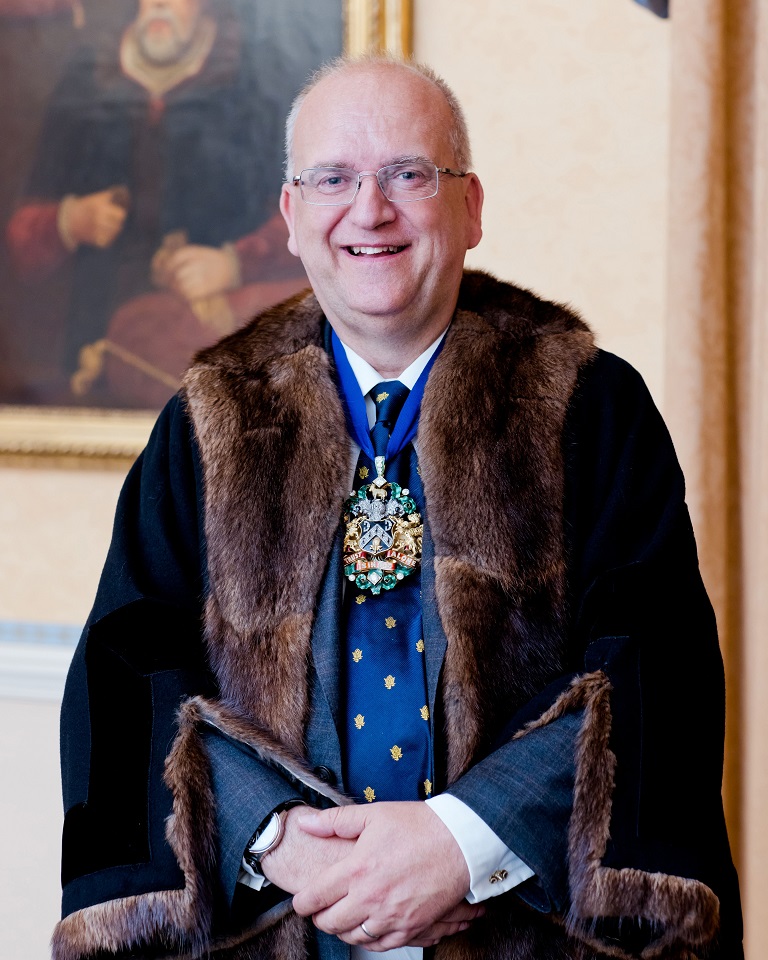 First Warden:
Tom Ingham Clark

Third Warden:
Andrew Wates


Second Warden:
Denis Clough

Fourth Warden:
Robert West
Alex Nelson
The 503rd Master of The Clothworkers' Company (2022-3)
Alex, who served as Master in 2020, has returned to serve as Master for a full year of events. Elected to the Court in 2013, he also served four years as the Chairman of The Clothworkers' Foundation. He is the son of John Nelson (Freedom), who was the Trusts and Charitable Grants Administrator of The Company at the time The Foundation was established in 1977. This was also the period when Alex was first employed as relief receptionist, telephonist and post room operator at Clothworkers' Hall. Subsequent temporary jobs in the City included work on Motor Sport magazine, for Cable and Wireless, and as a messenger at British Petroleum at Britannic House, Moorgate.
Alex attended Biggin Hill Primary School in the Borough of Bromley, and Dulwich College. He later studied Geography at University College, Durham, and has edited the College's alumni magazine for 35 years. University vacation work at Victoria Coach Station led to his recruitment on the National Bus Company's Senior Management Training Scheme and two years training in Norwich for the Eastern Counties Omnibus Company – including a spell driving minibuses in Exeter at weekends whilst scheduling them midweek.
He moved back north in 1985 to join Northern General Transport Co., which was then rebranded as Go-Ahead Northern and grew after privatisation to become a major bus and rail operating group. After a series of senior roles, Alex spent some time in Lesotho, Southern Africa, and was anxious to develop other interests. When Go-Ahead Group floated, Alex developed a tour operating business and moved into railways in 1999, spending 18 years as Stationmaster of the independent railway ticket office at Chester-le-Street, Co. Durham, and later also Eaglescliffe in the Tees Valley. He began selling rail tickets online in 2003. As the switch from station and telephone bookings to online bookings accelerated, he relinquished the two offices and concentrated on internet retail, based at Bishop Auckland station. He continues to manage the rail ticket sales website nationalrail.com and produces the annual UK National Rail Map (copies available on request!).
Alex is a Fellow of both the Chartered Institute of Logistics and Transport and the Royal Geographical Society. He prefers travelling by bus and train and is a judge for the UK Bus Awards. He writes in a series of magazines each month on places to visit by train, and has penned more than 200 articles. Although he maintains charitable connections in Lesotho and Sri Lanka, Alex has stopped air travel owing to the climate emergency.
He lives in Co. Durham with his wife, Pauline, as well as Bailey the dog and two cats.